Since its founding in 1886, Johnson & Johnson has been at the forefront of healthcare innovation. And every step of the way, the company has kept one key consideration in mind, as outlined in its company Credo: How can we help consumers and patients lead not only healthier lives but safer ones?

And that dedication doesn't just translate into the numerous products Johnson & Johnson Consumer, Inc. has created over the years, from its No More Tears® shampoo that doesn't sting infants' eyes to cotton swabs that can clean little ears safely.
In fact, it extends to the creation of public health campaigns that help ensure children all over the world stay as safe and healthy as possible.
Since September is Baby Safety Month, we're taking a look at some of the ways Johnson & Johnson has helped safeguard both babies' and kids' well-being.

1.
China Neonatal Resuscitation Program
In China, where about 10% of the world's neonatal deaths occur each year, birth asphyxia—a newborn's inability to breathe at birth—was a leading cause of death and disability among children under 5.

So in 2004, Johnson & Johnson, in conjunction with the American Academy of Pediatrics (AAP) and the Chinese Ministry of Health, rolled out the China Neonatal Resuscitation Program (China NRP), designed to ensure that all professional caregivers throughout the country—from midwives to physicians—were trained in proper infant resuscitation techniques.
The goal: ensure that at least one person trained and skilled in neonatal resuscitation attends every labor and delivery. To date, over 150,000 newborn lives have been saved throughout China's provinces thanks to the program.
2.
Liquid Medication Flow Restrictors
In 2010, drugmakers including Johnson & Johnson made a pledge to add flow restrictors to the packaging of liquid products containing infants' or children's acetaminophen.

Implemented in Infants' Tylenol® and Children's Tylenol® by McNeil Consumer Healthcare, a subsidiary of Johnson & Johnson, a flow restrictor reduces the amount of liquid that comes out of a bottle when it's shaken, squeezed or sucked by a child.
While the first line of defense against a child's accidental ingestion of more than a safe dose of acetaminophen is keeping all medication stored up and away in a high cabinet, where little eyes can't see it and little hands can't grab it, reducing the amount that kids could consume in a worst-case scenario is still critical.

3.
Combating Intestinal Worm Infections
Imagine if you could get sick simply by drinking a glass of tap water.
That's a reality in much of the developing world, where clean water is limited. In fact, over a quarter of the global population is affected by soil-transmitted helminthiasis (STH), commonly known as intestinal worm infections.

While adults and children are equally affected by the parasites, STH is particularly devastating to kids, since infections can interfere with physical and cognitive development. And while drugs exist to treat these infections, it's often difficult for families to get access to them.
That's why, in 2012, global pharmaceutical leaders came together with the Bill & Melinda Gates Foundation to draft the London Declaration on Neglected Tropical Diseases—a first-of-its-kind commitment to eliminate or control 10 of the most common and debilitating neglected tropical diseases.
As part of its commitment, Johnson & Johnson agreed to donate treatments for intestinal worms and parasites—namely, a chewable formulation of mebendazole intended for kids who are too young to swallow pills. The company has also pledged to donate 200 million doses of the tablet each year through at least 2020; to date, it's given away 1 billion doses of mebendazole tablets.
Johnson & Johnson is also the lead partner with Children Without Worms, an organization that helps expand distribution channels to deliver the medication to the people who need it most.

4.
Baby-Safe Ear Swabs
Cleaning tiny ears safely and effectively with traditional cotton swabs can be intimidating for new parents.
Enter Johnson's® Safety Swabs.
While slim cotton swabs can accidentally be pushed too far into a baby's ear canal, potentially causing harm, the Safety Swab is clinically proven to be safer to use on little ears. That's thanks to its Ear Safe Bulb—a larger, firm tip designed not to pass beyond the exterior parts of the ear.
5.
Safe Kids Worldwide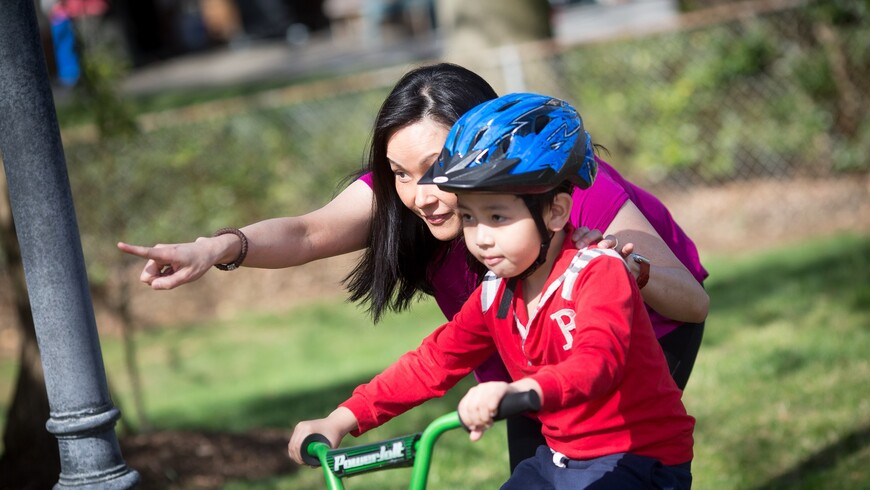 The no. 1 cause of death to children in the U.S. is preventable injuries—think car crashes, drownings, poisonings.
But through proper education, almost every one of these tragedies can be prevented.
That's the goal of Safe Kids Worldwide, founded by the Children's National Health System and founding sponsor Johnson & Johnson in 1988. The organization partners with national and local organizations to identify risk trends and offer child injury-prevention training and resources for staying safe in cars, in the nursery, while playing sports and in numerous other everyday situations.
To date, Safe Kids has helped reduce the U.S. childhood death rate from unintentional injury by 60%.
6.
Aiding Syrian Refugee Children
The stark images of Syrians fleeing their homeland have led many around the world to wonder how they can help the most vulnerable and innocent victims of the refugee crisis.

To do just that, Johnson & Johnson—building on a 2015 commitment of $1.75 million in support of the crisis—contributed an additional $1 million in 2016 to Save the Children to help address the needs of children and their families affected by the Syrian conflict.
The funding is earmarked to help address the immediate humanitarian response, as well as long-term resiliency efforts focused on maternal, child and newborn health; mental health; and early childhood development and education primarily in Lebanon and Jordan.
"We believe the mission of our Company to help people everywhere live longer, healthier and happier lives must begin with families in need, so we are proud to partner in this effort," said Johnson & Johnson Chairman and CEO Alex Gorsky
Alex Gorsky,Chairman and CEO, Johnson & Johnson when announcing the pledge.

---
Safety Is a Priority at Johnson & Johnson
Learn about the safety measures the company follows when making its science-backed baby and beauty personal care products.